0223. Van Morrison
Moondance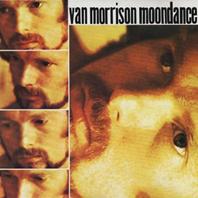 On the follow-up to 1968's Astral Weeks Van Morrison took a step back from the more out there song-writing and instead opted for lyrics you could follow (though still a bit opaque) as well as toning down the improvised feel of the music (by replacing all. So it might be a more constrained album due to these changes, but the constraints doesn't harm it at all. Or maybe just a little bit, cause where Astral Weeks was a GotToGet, Moondance misses it by just a fraction.

But good as these songs are I can't really understand why Crazy Love and Come Running were chosen as singles instead of the title track, cause I think that with it's full frontal jazz-smoothness it would have propelled the album sales even higher [fact check: the saxophone-solo in Moondance is considered one of the most influential in pop music - which, in layman's terms means it's as far away from Kenny G as could be], but okay - he gets bonus points for waiting to release it as a single until I'd been born a (seven years later).

A very enjoyable album and the air gets a little bit empty when the final track, Glad Tidings, ends...