0212. Sabres Of Paradise
Haunted Dancehall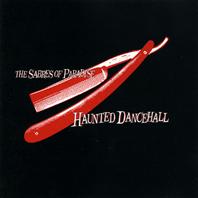 This is yet another one of those white whales from earlier on! I even think the Random Page Generator picked this one out long before Lam Toro, so it's taken me at least half a year to find it.

This time, however, I'm more positively surprised as it's not (as I feared due to their emergence from the acid-house scene) a house-album, but a dub-influenced, dark dance-sound (though it's slowly drifting into some sort of trance-type-thing at the end).

There's a lot of reverb, a lot of repetitive beats (of the kind that the bizarre Criminal Justice and Public Order Act 1994 outlawed) and a couple of real good tracks, like Wilmot, with it's great trumpet sample (from Wilmoth Houdini's Black But Sweet). This album's probably exactly what you need if you've got an hour or so of slow-rave planned but the DJ's gone missing.