0206. The Sisters Of Mercy
Floodland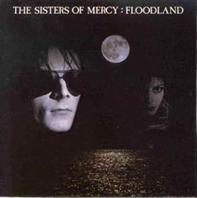 So, singer and drum-programmer Andrew Eldritch suddenly was alone after the guitarist and the bassist had left The sisters Of Mercy. Their debut hadn't been that commercially successful but he still had the intent to carry on. Now what?

Well, at first he tried calling his new project The Sisterhood, but that went belly up after a while, so he carried the track This Corrosion from that project and into The Sisters Of Mercy (mk. 2) together with bassist Patricia Morrison. And just to continue his track record with keeping on the good foot with other band members Morrison's role in the making of this album's been downplayed ever since (she's not even mentioned in the credits even though her face is on the sleeve and Eldritch's claimed all writing as well as most performing credits).

But, hey! Andy's got an amazing stonewall-voice and he obviously knows how to wrap the music around it, but I'm seriously thinking that the track 1959 could have sounded better if it was just his voice and not that single piano in the background. Counter that sparseness with the gigantic production of the aforementioned This Corrosion - a song that in it's final version is ten minutes of gothy greatness that makes me want to put on some army boots and a long leather coat and stomp the night away. Seriously, it's got about fifty people packed into it (with a recording-budget of fifty thousand quid and an equally expensive video for the four-minute single-version).

Never has the post-apocalyptic imagery felt so good (even though wearing mirror-shades indoors kinda makes you look like a dork).