0182. The Disposable Heroes Of Hiphoprisy
Hypocrisy Is The Greatest Luxury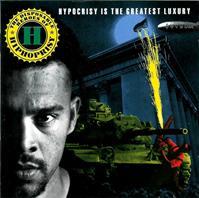 Before Michael Franti found inner peace and got a bit afrocentric, he and Rono Tse had a band called The Disposable Heroes Of Hiphoprisy and this is their album.
Highly political / conscious with industrialised noise beats and with Franti's booming, messianic voice, they could easily have been successors to Public Enemy's place in the hip hop-zodiac (the same Public Enemy they sampled on Everyday Life Has Become A Health Risk by the way) .

Hypocrisy Is The Greatest Luxury is thirteen tracks dealing with the consequences of school-yard bullying, overt and hidden racism, mass-media indoctrination, environmental pollution and a huge chunk of other topics as well as cover / version of Jello Biafras California Über Alles.

Touring with such different acts as Rage Against The Machine, U2 and Arrested Development and collaborating with William S. Burroughs for their next release they were hard to pigeon-hole into a specific genre.
If they'd just had a more accessible name and if they'd just stuck together for a longer time they could have been gotten into the hip hop-canon. As is they became a nova - lighting up the skies for a moment and then gone, but remembered forever as a GotToGet.