0111. The Clash
London Calling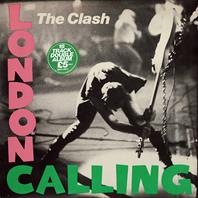 Originally released as a double album, London Calling is The Clash' third album and full of classics. There are some not so great tracks here - or, well, I'm convinced that there's sub-standard tracks after listening to the whole thing, but I can't for the life of me tell which ones they are when I re-listen to it (and I've repeated the process a couple of times now with the same feeling and result).

From the first, title-track, to the final, Train In Vain, I like every song (and as far as I'm concerned The Guns Of Brixton's got one of the top five basslines ever). It's punk, reggae, ska, rock and some sprinkles of jazz held together by a band who clearly liked what they were doing. Even though the producer threw chairs at them in the studio (to "create an emotional atmosphere").

A wonderful GotToGet-album that's got me started on a cover-version.