0106. Morrissey
You Are The Quarry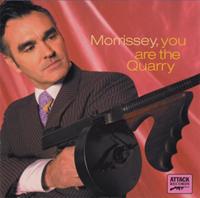 Fun fact: America can now say things to Morrissey.
His demand in America Is Not The World (the first track on the album) was that they'd get a president who was either "black, female or gay". And while I don't believe that they voted in Obama just to be able to talk to Moz (no, I really don't) I'm a bit curious if and how he's updated the lyrics or if he's just stopped performing the song live. This is a man with opinions and he's not afraid to sing them in convoluted ways (well, to be fair he's pretty up-front in some songs also). Too bad there's a bit too much dramatic posing involved as he at times sound more like a queer version of the sit-com Scrubs' Dr. Cox with his re-he-heally elongated and bouncy vowels.

And how about the music, then?
Well, it's actually very competent pop-rock with catchy melodies and nice arrangements. It shows that Morrissey's been in the game long enough to finally surround himself with good musicians dragging him away from the indie-pop he'd been trapped in during the med-part of his carreer.