0098. N.W.A
Straight Outta Compton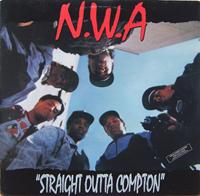 The forerunners of anti-social hiphop and their break-though first official album. Waging a verbal war against cops and women with lyrics that makes the Tipper Sticker proud (someone suggested changing the name to NWT, exchanging the Attitude for Tourettes, and well, I can't say that it would be missleading).

Some of the tracks (like Straight Outta Compton, Fuck The Police and Express Yourself) are still holding it down (actually holding you down while they're stealing your wallet and watch ...and sneakers, cause you're just stupid to wear your vintage shelltoes here), but some are just not as good as they could and should have been. The latter category's problem is that, well, the lyrics weren't that great to begin with. Beatwise it's a similar story: some of the beats on this album are the stuff that people could kill for to have been first on, while some are pretty dated.

This (just like Black Metal) is a genre-defining album and as such is an album you got to hear if for no other reason that it'd be just plain wrong to have missed it, so check it out.