0089. Leonard Cohen
I'm Your Man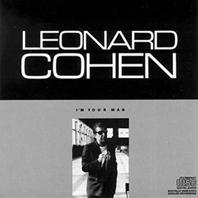 Leonard Cohen's got an amazing voice, but this is yet another albym that's been ravaged by eighties style production. Songs like First We Take Manhattan, Take This Walz and the title track, I'm Your Man, are fantastic songs. They've got amazing structures and the music would be as well if not for the cheezy, cheezy synth-strings and the perfect-pitch-but-no-characteristic-voices background singers.

And even though it's fun to hear what sounds like influences from the original Star Trek series it doesn't make Jazz Police a good song. Sure, it might be a meta-song aimed at rabid jazz fans, but as a song it just doesn't work out. Cool voice, crap song.

My recommentation is to listen to the live versions of these songs. Very much better and gives Cohen the musical backup he deserves.