0023. Chic
C'est Chic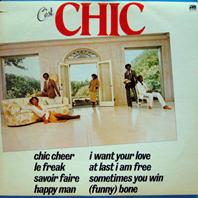 Yes, this is the album containing their biggest hit, Le Freak, and the anger management-written track still is an energetic song. The rest of the uptempo-tracks are not as catchy, but then again: they haven't been on the eternal playlist for some thirty years.

There are tracks for the slow dances as well, with the seven minute At Last I Am Free and (the shorter) Savoir Faire. The latter is an instrumental which shows Niles Rodgers excelling in guitar-masturbation over an easy-listening soul-track for over five minutes. Not the most exciting thing I've ever heard to be honest.

The style is disco-funk with obvious aim for the dance floor, so if you want deep lyrics and social commentary this isn't for you. Nowadays there's also demand for more action in the songs, so C'est Chic with it's minimal and repetative sound (with heaps of instrumental segments) would never get past the record companys watchdogs. At least not without being reprocessed and compressed down to half an hour total - a move I think would have suited it well although it's original form is nice listen.