0827. OutKast
Speakerboxxx/The Love Below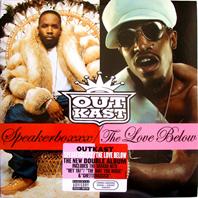 So, instead of going solo and releasing an album each, OutKast decided to drop a double album divided into some deep sout hip hop and …the other stuff.

Don't get me wrong, André 3000's The Love Below isn't a bad album, but Big Boi takes it home with Speakerboxxx - it's the more complete one both lyrically and musically (the beats are deep and there's references to P-funk). Best track could be The Way You Move with Sleepy Brown.

On The Love Below there's just too much random sillyness. Songs and skits/interludes that seem to be pulled out of the ass (and for some reason faux-british dialect). One of the best tracks here is Dracula's Wedding with Kelis.

So, if you only had the chance to save one of the discs from a burning building, take Speakerboxxx.