0747. Fun Lovin' Criminals
Come Find Yourself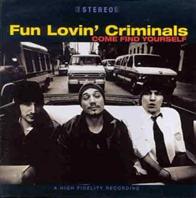 A hit in Euroland, but practically not heard of here since, the Fun Lovin' Criminals' debut was probably all that G. Love & Special Sauce wanted to be but couldn't pull off a couple of years earlier.

The song behind the success was Scooby Snacks, perfectly produced to appeal to a hip nineties' audience with it's talked verses (no, he ain't rapping a bar in the whole track, so shut up) and Tarantino samples (also: wasn't that guitar sound and rhythm very common around that time?).

The rest of the album is the same kind of macho posturing, with either blues riffs or metal dittos and lyrics touching on drugs, crime and for some reason an ode to a mafia boss (King Of New York).
The exeption is a cover of We Have All The Time In The World isn't all bad, it's just pretty far from all good (and also very malplaced, seen to the context of the album).