0732. The Everly Brothers
A Date With The Everly Brothers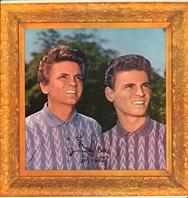 Now here's a duo that inspired acts like The Beach Boys and Simon & Garfunkel and that's not a small thing.

But one thing that strikes me as I listen to this is that it's so much insecure macho posturing that it's ridiculous. I know it's a sign of their backwards times, but seriously.

Anyway, there's twelve teeny-bop tracks ranging between two and two and a half minutes, where Love Hurts is the most famous one. Covered by everyone from Gram Parsons and Nazareth, to that guitarist on Youtube, it's one of the tracks that made The Everly Brothers a part of the pop canon.