0644. Simply Red
Picture Book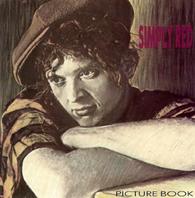 I wonder what the genre-label "blue-eyed soul" signifies?
Is it that it's something special that can't be found in "regular" soul - and if so: is it better or worse?

Is blue eyed soul a warning sign that the sould you're about to listen to is almost devoid of soul? Cause if that's the case, we've got a good example here. Simply Red's debut has got a good pop-feel to it, but it's so unthreatening that I can't really listen to it for longer periods without having to distract myself.

All in all there are two songs that make the cut: the cover of the Valentine Brothers' Money's Too Tight (To Mention), and Holding Back The Years, both of which are probably elevated due to childhood memories of school disco's 'n' stuff. A Talking Heads cover also appears, Heaven, but just falls flat.

So, what the hell is Blue Eyed Soul? Is it just a racially motivated marker of what is safe for blue eyed people to listen to?
It can't be that bad, can it? What does the major information sources say? "Blue-eyed soul (also known as white soul or pop soul) is a media term used to describe rhythm and blues and soul music performed by white artists. The term first came into play during the mid-'60s."
Well, then...