0596. Funkadelic
Maggot Brain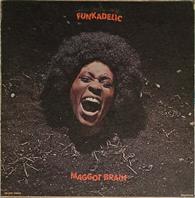 The lengthy guitar solo in the opening title track once made an aquaintance quip "Who the Hell put on Yngwie?" and, well, I do understand the reaction. Cause I've had it too.
On the earlier entry, One Nation Under A Groove (by the way: that was 99 albums ago), that was one of two complaints and here, on Maggot Brain, Eddie Hazel's a couple of notches higher. Compared to sibling band Parliament, they've somewhat exchanged the groove for psychedelic rock and such.

The other complaint I had was the lyrics, but here, seven years before the other album, it's more political and less of making excuses.
So, it's a good album, I just get annoyed by parts of it. Parts other people enjoy immensely as Hazel's licks have been copied and covered by everyone from Buckethead to Pearl Jam.