0593. Slipknot
Slipknot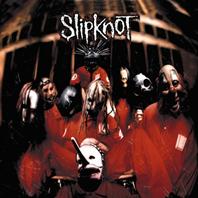 Released, but getting pulled because of copyright claims, it's of course the revised release that's reviewed here.
The masked nine-piece chaos orchestra Slipknot managed to create the exact kind of debut that Korn, Papa Roach and a bunch of other (so called) nu-metal acts succeeded with: getting devote fans with an album of rage, angst and a helluva force.

What sets this apart from most others (and Papa Roach especially) is the complexity of it (and that their fans seemed to grow into some sort of sect). While not being as mathematically designed as The Mars Volta, Slipknot's got a whole lot going on in the form of a multi-rhythm section of bass, drums and percussion, a bit of turntablism (sort of), guitars and samples.
They're clearly aiming for everyone getting tinnitus and at least one cracked rib.

The song that took them into the relative mainstream was Wait And Bleed, where singer #8 (yes, that's a pseudonym) smoothly goes from growls to singing. Nicely done!

Of course there's a "hidden" track, five minutes after the ending notes of Scissors. Starting with a recording of "the guys" hanging out and watching ...something [fact check: apparently they're watching scat porn (if you don't know, don't google it) - very "bro" behavior], before it (after too many minutes) abruptly breaks into the the last track.
Doesn't really seem like a good finish of an otherwise great album.