0351. Sugar
Copper Blue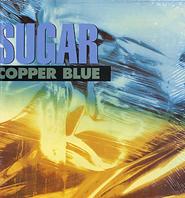 I desperately try to figure out who the singer sounds like, and I lean towards "a bit like someone who's a bit like Michael Stipe" and well, after a couple of songs the musics kinda in the same league. Then I check the tracklist and see that the final track is called Man On The Moon and go "Wait? What?" for a minute.

But no, it's not R.E.M. in disguise, it's the debut album by Hüsker Dü-singer Bob Mould's short-lived new band, Sugar, an album which was "Album of the year"-lauded by NME, but doesn't really give me the chills. I mean, it's an okay album and I get it on a theoretical level, but on the emotional plane? Not so much.

The feeling that Copper Blue sounds like a bunch of songs that another band scrapped is only strengthened when I read that the rehearsals for their first concert took place in R.E.M:s practice space.

Send in the clones!