0310. Scott Walker
Scott 2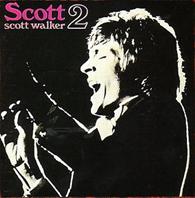 I instantly like this album even before I play it.
Why?
The title.
"Yo, Scott, it's your first solo album after breaking from The Walker Brothers - what'chu gonna name it?"
"I don't have time for this, call it by my first name."
"Scottie-boy, it's your second album!"
"Do the same, but stick a 2 right after so people'll know."
"So, the third and fourth?"
"You know the drill. Number 'em!"

And when I finally get to listen, the feeling remains for a while, cause it starts with a cover of the Jaques Brel-song La Chanson Des Jacky (or, in Walker's English version: Jackie). A track both banned by the Beeb for containing sex, drugs and rock'n'roll as well as the most enticing on the album.

Scott 2 sort of loses tempo when the rest of the songs parade by. Not just due to their slower beat, but they just hasn't got the oomph of Jackie's lyrics either. The only one that even comes close is Next, which - of course - is another Brel-penned song.

I wonder when Brel's gonna show up on the list.