0286. PJ Harvey
Rid Of Me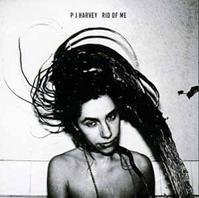 It's been a long time since we've heard from Polly Jean. Her first album was massive in its darkness and Rid Of Me is her second, released just a year later is, well, it's different.
The title-track has the endless build up we got to know on Dry, so it's familiar ground and the majority of the tracks are equal to the ones on that album. The strange thing is that it wasn't until the second time I listened to it today that it clicked.

At first I was going to write a bit of a scathing review about how the A-side was lost to artsyness, but then I realized that the only song that that could apply to was Man-Size Sextet and that I actually liked that one too. But still, the B-side is notch up with Highway '61 Revisited, 50ft Queenie and Man-Size as the prime tracks.

PJ not only manages to pull off the feet of matching her debut, but also makes me question my listening skills.
Good show!