0272. Nine Inch Nails
The Downward Spiral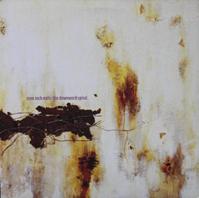 Not for the delicate ear, The Downward Spiral goes from alarming noise to stillness to beautiful melodies and back again faster than you can say "industrial" and sure, compared to Throbbing Gristle Trent Reznor's NIN is almost a walk in the park of accessibility, but then again - that doesn't say much does it?

This is uncompromising industrial / electronic music splattering the carnal needs and base emotions over the eardrums. The returning musical theme (the slowly dying, cracked piano) is a good way of reminding the listener that this is a concept album, and while the concept about a man shedding his humanity through clashing with the world might seem a bit familiar The Downward Spiral works just fine. It's more unified than The Wall (it's only one singer after all) as well as both grittier and loads more interesting than Antichrist Superstar. Possibly due to Trent not overreaching and making it into a double album.

And I know I probably shouldn't say this as there might be die-hard NIN-fans out there tracking me down, but the version of Hurt that Cash recorded? A bit better. But that's mainly cause Cash really sounds like a man at the end of his life whereas Reznor hasn't got the same leadlined delivery (why yes, I did hear the NIN-version long before JC recorded his, so quit complaining thankyouverymuch).