0246. Gary Numan
The Pleasure Principle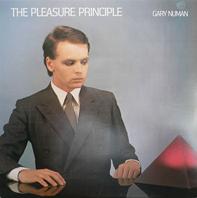 I guess this is what in some circles would be called "very white music": The Pleasure Principle is an album that 's programmed and sung with the stiffness of a marble rod up the backside and thus is the epitome of robotic synthpop.

Gary Numan's first "pure" solo album (his earlier work had been as the motor of Tubeway Army - a band that, after this album sky-rocketed, promptly merged into the Numan-moniker) isn't really a synthpop-album (even though I stated it in the first paragraph) but a synth-rock-electro-punk album. I.e. less pretty, blippy melodies and more chord-riffs (but not a guitar in earshot).

Also it's a bit daring to start off this kind of album with an instrumental like Airlane, but it's a good gamble. The rest of the tracks are centred 'round lyrics about paranoia, loneliness and longing (whether it's for being accepted into the world or being human). All adorned with a metallic tint.

The big hit is of course Cars, but there's loads more and some of the others might be recognised as baked into other people's music. The intro to M.E. for instance was later on heavily sampled in Basement Jaxx' Where's Your Head At and did a damn good job at that.