0238. Bruce Springsteen
Born To Run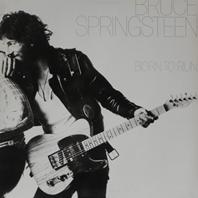 So, what to do when your first two albums have been good, but maybe not as commercially successful as the label wanted? Why, record the one that everyone will call the best you've ever done of course. Must be irritating to get that comment even close to forty years and thirteen albums later though.

Born To Run is where Bruce Springsteen planted himself in the American soil forever by making an album that was both a success and a darn good collection of songs. The opener and closer (Thunder Road and Jungleland, respectively) are the tracks usually held up as the ultimate songs from this one, but I'll have to disagree - well, at least on half of the account: Jungleland is too much of a downer ending the album on a note of despair. It would have been a whole other album if it had ended the way it begun: with an inspiring track about getting the Hell out of here.

Seriously, can you imagine this album ending with Born To Run?

Taking up half the album's studio-time and with a huge wall of sound-production, it's a monumental track, which, even though it sounds pretty damn good, there is one slight problem with:
I have a bit of a hard time with the glockenspiel, cause I'm not sure that bells should be so prominent in any rock-song (possibly with the exception of Christmas songs, that is, but that's special circumstances and for a very limited time of the year).

But still: imagine that killing the stereo as the album comes to an end.
You wouldn't be able to move for at least a couple of minutes.