0109. The Specials
Specials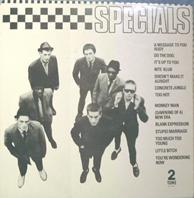 One of my all-time favourite bands with their first album and while I definitely love it I still can hear that some of the tracks are less than perfect. With topics mostly in the social-realism-realm (the best songs almost always are) and a very strong live-vibe in the recording it's a GotToGet, but a got to get with a caveat: The guys' singing is at times kinda crap and the mixing follows that track.
Still their punk-aproach to ska (as well as the whole 2Tone thing) just nestled istelf in my brain the first time I heard them and haven't lost it's grip since.

The opening track, a cover of A Message To You, Rudy, boasts with a guest appearance from Rico Rodriguez - who appeared on the original recording as well as being part of the legendary Skatalites.
Furthermore, some premium tracks can be found in Doesn't Make It alright, Too Much Too Young and Concrete Jungle whether they called themselves The Specials or The Special AKA at the time...