0092. AC/DC
Highway to Hell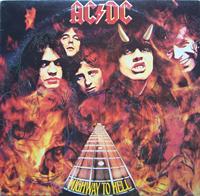 Classic album by classic riff-rockers AC/DC (who haven't changed their recipie for the last couple of decades). This isn't the most cerebral of music out there but rather aims some eight or nine decimeters lower (that's about than three feet for you Americans, Liberians and Burmese reading this). It's songs about sex, some violence (not at the same time) and voluptous women (although the lyrics for Night Prowler are obviously somewhat easy to misinterpret).

Sadly, this, the first album to be an international hit for the band, was also Bon Scott's last album, as he died while on a drunk stupor about half a year after it's release. A tragedy which almost was the end for AC/DC (but as we all know they came back in black within the year).

I like this, it's straight up, no frills, no compromises, hard rock 'n' roll. It's everything bands like The Hellacopters wished they could be. Highway To Hell isn't the worst legacy to leave after oneself.