0076. Dire Straits
Brothers In Arms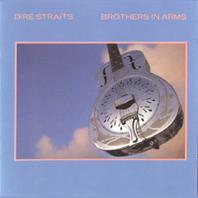 This is the album that spawned Money For Nothing, with it's groundbreaking CGI-video (which at least had me in awe at the massive age of eight or nine when I first saw it - without noticing the words "little faggot" in it. Strange words for a MTV hit from the 80's), and Walk Of Life, which of course has been a staple of sports "best of"-clips ever since. It's a solid uptempo start.

But then, after those tracks there's no energy left and the rest of the album kinda slumps over and turns into lullabies for the middle aged. Mark Knopfler manages to always sound a little bit sluggish, and while his guitar play is good it's only in the aforementioned tracks (and some of the later solos) he really lets it loose.

I'm getting more and more drowsy as I'm writing this and okay, they try to wake me up with a bombastic refrain in The Man's Too Strong, but the the title track moseys in and puts me down for the count in a very comfortable way...