0045. Eels
Beautiful Freak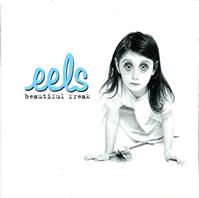 It's not every day an album like this spawns as a huge hit as Novocaine For The Soul and just like with last friday's album they drop the bomb on the first track. But unlike Crowded House the guys in Eels actually continues to deliver good songs for the rest of the album.

It's full of songs that, like Susan's House, keep puttering along, blended with tracks like Rags To Rags with it's more regular rock build up and setting. I actually could list almost all of the tracks on Beautiful Freak as the recommended songs, but it'd feel kind of silly.

But anyway: the unifying elements of all songs are E's raspy voice which delivers sweet lyrics with a distinct tint of darkness. The world seen from the other side of the veil with the unheimliches sneaking up on you. Very nice indeed...
Since I've been reluctant to stop listening to the album I guess I'll just go ahead and put it on the GotToGets, cause I just can't seem to tire of it.